Thomas Severini
Professor of Statistics
Ph.D., 1987, University of Chicago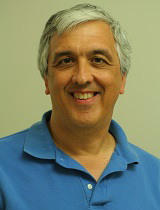 2006 Sheridan Road, Room 305
Research Interests
My research focuses on likelihood-based statistical methods such as maximum likelihood estimation and tests and confidence regions based on the likelihood ratio statistic.  My work in this area is concerned with higher-order asymptotic approximations to the distributions of likelihood-based statistics and the development of statistical methodology for models with many parameters, including applications in finance and econometrics.  I am also interested in the application of statistical methods to the analysis of sports data.
Recent Publications
Integrated Likelihood Functions for Non-Bayesian Inference, Biometrika, 94 (2007),  pp. 529-542.
Likelihood Ratio Statistics Based on an Integrated Likelihood, Biometrika, 97 (2010),  pp. 481-96.
Frequency Properties of Inferences Based on an Integrated Likelihood Function, Statistica Sinica 21 (2011), pp. 433-47.
Efficiency bounds for estimating linear functionals of nonparametric regression models with endogenous regressors (with G. Tripathi),  Journal of Econometrics, 170 (2012), pp. 491-8.
A Flexible Approach to Inference in Semiparametric Regression Models with Correlated Errors using Gaussian Processes (with H. He),  Computational Statistics and Data Analysis, 103 (2016), 316-29.
A Nonparametric Approach to Measuring the Sensitivity of an Asset's Return to the Market,  Annals of Finance, 12 (2016), 179-99.
How jet lag impairs major league baseball performance (with A. Song and R. Allada), Proc. Nat. Acad. Science,  114 (2017), 1407-1412.
Analytic Methods in Sports: Using Mathematics and Statistics to Understand Data from Baseball, Football, Basketball, and Other Sports, (2014),   published by CRC Press.
Introduction to Statistical Methods for Financial Models, (2017), published by CRC Press.
Back to top