WIST Past Events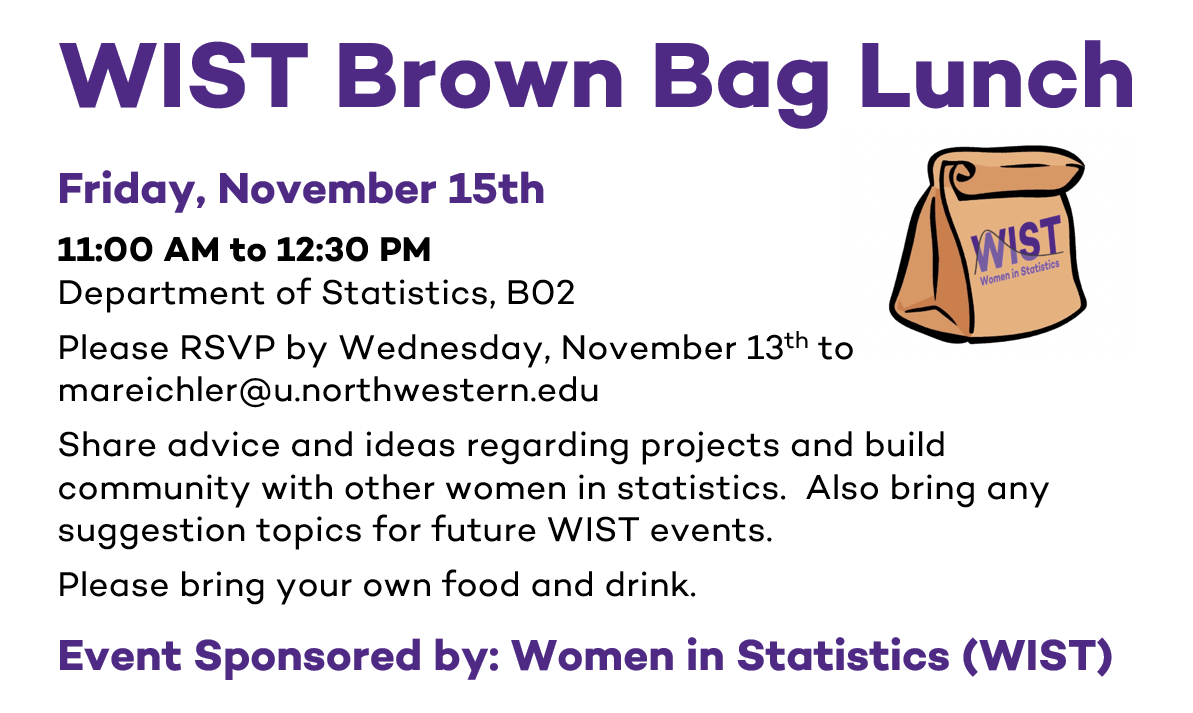 Connecting R/RMarkdown & Microsoft Word Using StatTag
Thursday, September 26th at Mudd Library
4:30 PM to 6:30 PM
Dinner Provided
RSVP: meetup.com/rladies-chicago

Speaker: Leah Welty, Ph.D. Professor of Preventive Medicine (Biostatistics) and Psychiatry and Behavior Science and lead developer of StatTag at Northwestern
Want to automatically update your Word document with R outputs? Learn StatTag! This event will teach participants how to use StatTag (free, open source software) to create a bi-directional connection between R/RMarkdown and a Word document so that all files can be edited separately, but statistical content – values, tables, figures, etc., can be updated automatically in Word.

Event Sponsored by: Women in Statistics (WIST)
Spring 2019: Women in Data Science (WiDS) Evanston regional event
Northwestern Women in Statistics (WIST) is hosting a Women in Data Science (WiDS) Evanston regional event, March 8th, 2019 5:00-9:00 PM.
Registration is free and open to all genders. We'll be streaming talks from some awesome female data scientists at WiDS @ Stanford, hosting a data dive for the Illinois Red Cross (bring your laptops, preferably with R), and more! What better way to end International Women's Day? 
Dinner will be provided. Space is limited, register here.
Contact Abby Smith (als1@u.northwestern.edu) or Mena Whalen (menawhalen2020@u.northwestern.edu) with any questions you have about the event.
Back to top